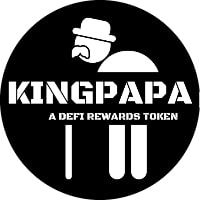 KINGPAPA
---
Ticker : KPAPA
Launched On : 19 July, 2023
polygon Chain: 0x5aBD74c7192e7688F81206d8A4F6B9c298f3D282
---
---
KINGPAPA Description
Introducing KingPapa, a cutting-edge defi token built on the Polygon blockchain. Designed to revolutionize the crypto landscape, KingPapa brings forth an array of innovative features, rewarding systems, and powerful utilities. With a vision to empower its community, this esteemed project collaborates with various NFT projects on the Polygon blockchain, leveraging token collaborations to amplify and elevate those projects.


Through its robust smart contract framework, KingPapa offers a range of lucrative rewards systems, allowing token holders to earn passive income and participate in yield farming opportunities. By staking their tokens, users can unlock exclusive benefits and incentives, further enhancing their journey with KingPapa.


But KingPapa's ambitions don't stop there. By creating strategic partnerships with prominent NFT projects on the Polygon blockchain, the KingPapa team aims to provide unparalleled support and exposure to emerging artists and creators. Through token collaborations, these projects receive a valuable boost, ensuring wider recognition and adoption within the vibrant NFT ecosystem.


Join the KingPapa community on this exciting journey as they pave the way for the future of decentralized finance on the Polygon blockchain. With a commitment to innovation, reward systems, and collaboration, KingPapa is set to reshape the crypto landscape while offering unparalleled value and opportunities to its dedicated community.
---
KINGPAPA Summary
---